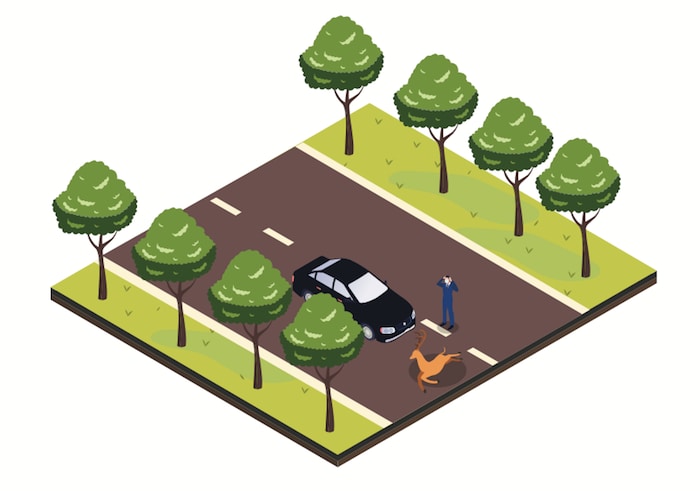 If your vehicle has recently sustained damage during a collision with a deer, we recommend visiting our Springfield Ford Lincoln Collision Center, conveniently located near Broomall and Glenolden for all your vehicle's repair needs! We use only the best original Ford parts that are designed and manufactured specifically for your Ford, so you can be sure they will fit precisely and provide long-lasting performance!
How Many Deer Collisions Occur Each Year?
According to the State Farm® Insurance company's annual analysis, data shows that on average, U.S. drivers have a 1 in 109 chance of a collision with an animal -- with an average cost per insurance claim of $4,341. Unfortunately, in a state-by-state breakdown, Pennsylvania sits fifth on a list of states where an individual driver is most likely to hit an animal, with a likelihood of 1 in 54. This trails only West Virginia (1 in 37 chance), Montana (1 in 39 chance), South Dakota (1 in 48 chance), and Michigan (1 in 53 chance). 
What Can I Do To Avoid a Collision With a Deer? 
It's important to always use caution when driving -- especially at dusk and into the evening hours, as deer become more active in the evening when the sun goes down. 
Stay alert at all times and pay attention to the road ahead. If possible, try to ensure that you are familiar with the roads you are driving on and the landscape/environment that surrounds them, as you will feel more confident behind the wheel. 
Deer tend to travel in small groups, so if you see one cross the road, there is a strong possibility that there are additional deer nearby that may be following behind. 
As bad as it sounds, sometimes it actually makes sense to hit the deer in your path, as swerving into traffic or off the road can be far more dangerous than a collision with an animal. 
Keep your lights, brakes, and tires well-maintained for optimal performance. Buckle up, don't tailgate, and remember to always abide by the speed limit. 
Schedule a Repair at Our Springfield Ford Collision Center Near Broomall
If you're looking to hear more about our Springfield Ford Lincoln collision center or you would like to go ahead and schedule an appointment to have your vehicle repaired, please feel free to contact us online or visit us in person here at Springfield Ford Lincoln, conveniently located at 50 Baltimore Pike Springfield, PA near Broomall and Glenolden.