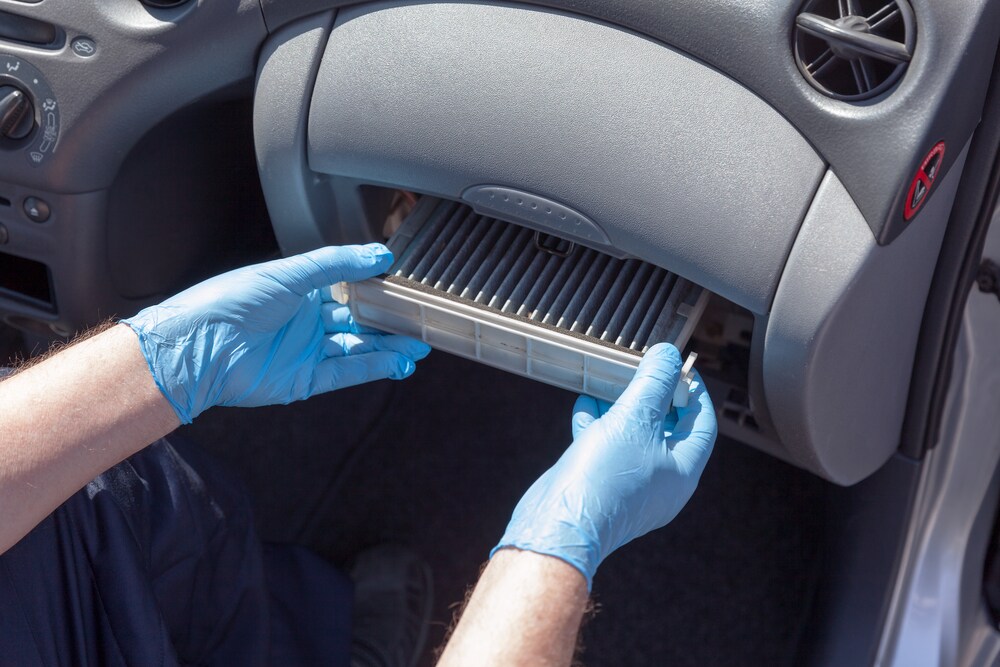 Smelling a strange odor coming from your Ford? 

It may be time for you to change your cabin air filter. At our Springfield Ford Lincoln service center, our trained Ford service technicians will assess your vehicle's cabin air filter and replace it, if it's time.
The cabin air filter is an essential component of any vehicle. Its main job is to help keep harmful pollutants, including pollen and dust, out of the air you breathe in. The filter cleans the air as it travels through your Ford vehicle's HVAC system. 
But how do you really know it's time to change your cabin air filter?
Signs Your Cabin Air Filter Needs to be Changed
We recommend replacing your car's cabin air filter every 12,000 to 15,000 miles, or based on your Ford vehicle's maintenance schedule. If your Ford starts to show these signs however, you should get your cabin air filter replaced sooner.
Bad Odor: When you start your car, and you smell a bad odor, your cabin air filter could be the reason for the smell. If you haven't replaced your cabin air filter in the last 12,000 to 15,000 miles it's even more likely to be the cause.
Reduced Airflow: In the warmer months, if you don't feel the usual amount of airflow when you turn on your air conditioning, your cabin air filter may be dirty. It will have to be replaced to get the full amount of cool air you're used to.
Loud Noise: When you turn on your climate-control fan, and there are more loud noises than airflow, your cabin air filter may need to be replaced. The noise could be caused by the components working extra hard due to a dirty cabin air filter.
Bring Your Ford to Our Springfield Ford Service Center
Before you stop by for your car's cabin air filter replacement, be sure to browse our Ford service specials for great savings on your next visit. If you have any other service questions be sure to contact us online. We can't wait to see you at our Springfield Ford service center, serving Broomall and Glenolden.