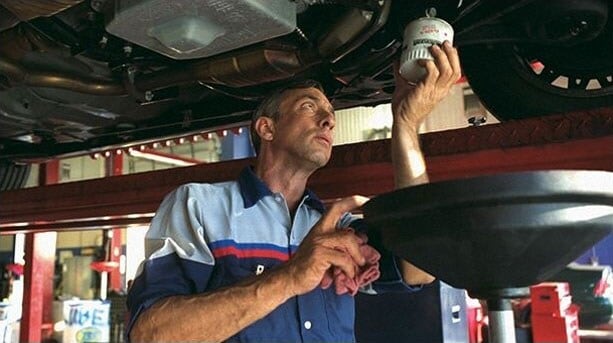 If the engine is the heart of your Ford, consider its oil the lifeblood. Oil is an essential component of your vehicle, and regular oil changes are a critical part of keeping it running in tip-top shape for years to come. Knowing that, are you aware of what type of oil your Ford 1-50 takes, or any other Ford vehicle for that matter? If you're not a motor oil expert, never fear! Our Springfield Ford service center will fill you in on some of the most common questions people have about oil changes. 
What Are The Benefits Of Regular Ford Oil Change Service?
A routine oil change is necessary in order for your vehicle to run at its optimal level. Simply put, changing out the oil and filter offers your vehicle's engine the lubrication it needs for all moving pieces to operate efficiently and smoothly. An oil change service can also minimize the risk of major problems. Fresh oil reduces friction, absorbs by-products such as dirt and debris, and minimizes potential engine overheating.
Primarily, oil change service keeps your engine's oil at the optimal level so that your engine is fed well and every moving piece within the engine flows properly. As part of Ford's scheduled maintenance, oil change service is essential for all makes and models, in addition to regular tire rotations and fluid checks.
What Happens During A Ford Oil Change Service?
During oil change service, our technicians not only remove the old oil, but we also remove any debris or build-up that can significantly impact how your engine runs. The old oil is replaced with conventional, fully synthetic, a synthetic blend, or a high mileage oil, depending upon what is recommended for your new or used sedan, SUV, or pickup. We replace the oil filter and then perform routine checks of your lights, battery, fluid, and tire pressure.
How Often Should I Change My Oil?
It's important to consult your vehicle's maintenance schedule to be sure about how often you should change your oil, but you may be surprised to learn that it's not as often as you think! Many of today's engines are designed to run for 5,000 miles or more, and some are even designed for oil changes every 10,000-15,000 miles! Always check your owner's manual for the specifications listed by the manufacturer, though, and keep in mind that certain driving conditions may speed up the need for an oil change.
Where Can I Get a Ford Oil Change Near Me?
Springfield Ford is more than happy to keep your Ford running at peak performance with an oil change service. Schedule your service appointment today!