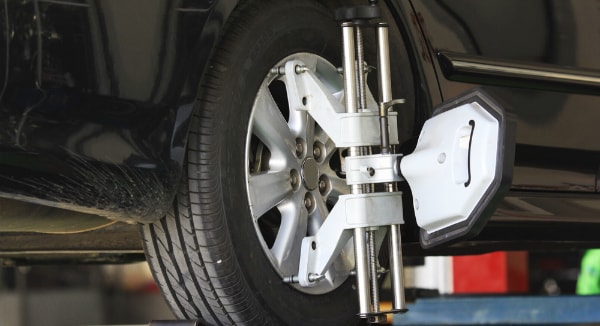 Has your Ford felt off lately? Do you feel wobbly while driving?
It may be time for you to bring your Ford in to have its wheels aligned.
If your Ford vehicle needs an alignment, our Springfield Ford service center's trained technicians will get your wheels aligned correctly and get you back driving smoothly on the road. But how do you know when you should get your wheels aligned?
Signs Your Wheels Need to be Aligned
It's important to know when your wheels aren't aligned. Your vehicle's alignment is crucial to the overall functionality and safety of your vehicle. If your car is out of alignment for extended periods of time it can cause serious damage to your vehicle, making for costly repairs.
Here are a few telltale signs that your vehicle should be serviced for an alignment:
Your vehicle is pulling to one side while you drive
Uneven tire tread
You constantly are adjusting your steering wheel
Steering wheel vibration
Instability at highway speeds
How Often Should Your Ford Get Its Wheels Aligned?
To be sure your Ford is operating properly and safely, you should get your wheels aligned every two to three years. However, if your vehicle is experiencing any of the signs, be sure to get it serviced right away.
Get Your Wheels Ready For Winter
When the winter months approach it is a good idea to get your tires inspected. During the colder months your tires need to be ready to handle whatever the weather will throw at them. Your tires are the only part of your vehicle to touch the road, when roads are icy and snowy you need to make sure your tires can handle it. During the winter months you need to make sure your tires have the proper traction, handling, and braking to perform and keep you safe. 
To make sure your tires are prepared for the winter be sure to get them inspected. When tire tread runs thin, braking distance is increased. With increased braking distance and harsh road conditions, your tires will be pushed to the limit, be sure they are prepared for the winter roads. 
Get Your Ford Serviced at Our Springfield Service Center
The trained technicians at our Springfield Ford service center will be able to get your vehicle aligned properly and get you back on the road quickly. If you have other service requests or more serious repairs, they are more than capable of handling that too. 
To reserve your service time be sure to schedule your service appointment online, and be sure to look at our service coupons for exclusive savings.

If you have any questions you can always contact us online or visit us at Springfield Ford.