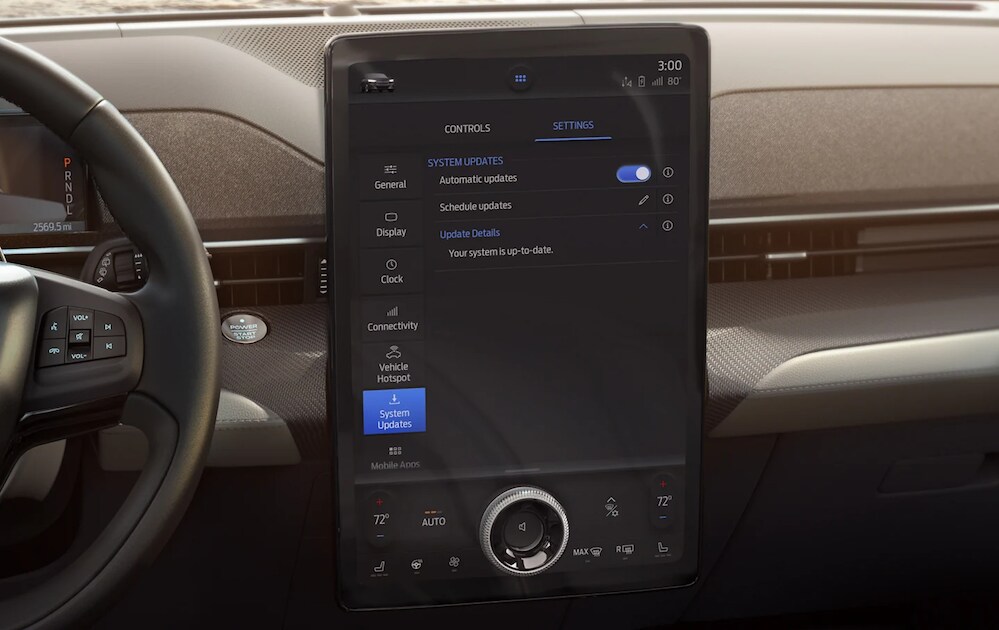 Your Ford vehicle's SYNC software has been engineered to keep you connected to the people you know and to the places you go. Downloading the latest software updates will help the system stay current so you can always be confident that you're getting the SYNC experience you deserve! 
If your vehicle is equipped with SYNC 4/4A, it will automatically update via Ford Power-Up software updates and there is no action required on your end. 
For all other Ford SYNC versions, please enter your Vehicle Identification Number (VIN) on the Ford Support page, then select "Check for Updates". 
Where Can I Find My Ford's Vehicle Identification Number (VIN)? 
You can typically find your VIN in these locations:
Driver's Side Doorjamb
Windshield (Lower, Driver's Side Corner)
Vehicle Documentation (Registration, Insurance Policy, Lease, Promissory Note)
Other locations may include your vehicle's SYNC® 3 screen, the FordPass™ App, or your Ford Account.
SYNC 3 Screen (If Equipped)
Press "Settings"
Press "General"
Select "About SYNC"
FordPass App
Log in to the FordPass App.
Select a Vehicle.
Select "Vehicle Details"
Scroll Down and Select "Vehicle Details"
How Do You Want to Install Your Update?
Flash Drive
Step 1:  Make sure your flash drive (with at least 8 GB of storage) is formatted to a file system called exFAT for SYNC 3 (other SYNC versions need FAT32 format). Since almost all new flash drives are formatted to a system called FAT32, you will have to change the format yourself. It's quite simple:
Windows Users
On a PC, connect your flash drive.
Click Start > File Explorer > This PC.
Right-click your flash drive and then select Format.
In the File System list box, choose exFAT, type in a Volume Label of your choice, and then click Start.
Click OK in the format warning and wait until the process is complete.
MAC Users
Insert your flash drive into your computer's flash drive port.
Go to Applications and Utilities > Disk Utility.
Select your flash drive from the list on the left.
Click on the Erase tab.
Name the flash drive.
Select the format as exFAT.
Click the Erase button to format the Flash Drive to exFAT.
Step 2: Download the software to your computer and save it to an easy-to-find folder or onto your desktop.
Step 3: Extract/unzip the downloaded file to your flash drive.
Step 4: Look at the file listings on your flash drive. Depending on your version of SYNC, you should have different files listed. For MyFord Touch/SYNC 2 and SYNC 3 equipped vehicles, you should see:
SyncMyRide folder
autoinstall.lst file
DONTINDX.MSA file
For early versions of SYNC, you should see:
SyncMyRide folder
a file ending in .lst (the filename may vary)
Installation:
Your vehicle must be in park when you initiate the installation process. Make sure your vehicle is in a well-ventilated area as your vehicle must be running until the update is complete. Once the update process has begun, you may drive your vehicle.
Remove any other flash drive devices from your vehicle and insert the flash drive with your updated SYNC files into the flash drive / USB port. (Where do I find my USB Port?) The update will begin. It should take about 25-30 minutes.
When the update is installed, an Installation Complete pop-up will appear on your vehicle's onboard screen.
Step 5: Please log your activity in our system to keep your vehicle's records current.
Reconnect the flash drive used to update your SYNC system to your computer.
Click "Browse for log file" below.
Browse the Flash Drive and select the XML log in the SyncMyRide folder.
Update complete!
Wi-Fi
Things to note before you begin:
Only vehicles with SYNC 3 or greater can update over Wi-Fi.
You can use all of your SYNC system's capabilities during the update.
If the update is interrupted for any reason, it will continue where it left off the next time it connects to Wi-Fi.
Your vehicle doesn't have to be running for the update to start and/or complete.
You must use an external Wi-Fi connection for this update. You cannot use your phone or vehicle's hotspot.
A strong Wi-Fi signal is recommended for best performance.
Installation:
Step 1: Turn on your vehicle. If this is the first time you've used SYNC, or you've recently done a Master Reset, you may be prompted to enable automatic updates.
Step 2: Connect to a trusted Wi-Fi network by going into Settings >Wi-Fi.
Step 3: Select your network and enter the password.
Step 4: Once you are connected, go back to Settings and select the General button, then tap Automatic System Updates, then tap Scan for Updates Now.
Step 5: After the scan completes, verify that the "Last Checked for Updates" date reflects today's date and time.
Step 6: If there is an update available, it will begin to download in the background.
Step 7: A confirmation message will appear on your screen when the download and update are complete. The length of time may vary, but your vehicle does not need to remain running for the update to occur.
Learn More From Springfield Ford Near Broomall
If you are unable to find your VIN or you're having a hard time when it comes to updating your Ford SYNC software on your own, we invite you to schedule a service appointment here at Springfield Ford so that a knowledgeable Ford technician can update your software for you and ensure your vehicle is as up-to-date as possible, or feel free to contact us online or by phone!