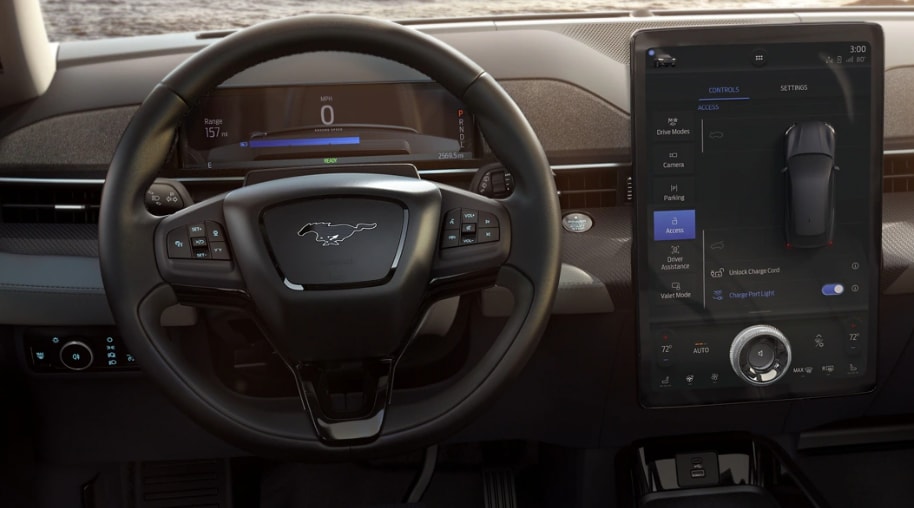 Formerly known as Active Drive Assist, Ford BlueCruise allows hands-free driving on specific sections of divided, predesignated highways. As time passes, Ford is dedicated to making the technology's performance even more human-like with refined visuals, steering, and sensing capability. Read on to learn more about how Ford BlueCruise works, and which Ford vehicles come with BlueCruise availability. 
How Ford BlueCruise Works
BlueCruise is a computer-controlled system and falls under the category of Ford Power-Up technology advances. It works with the person behind the wheel to provide a close relationship between driver and machine. The technology is created to evolve and will pull from the following programs for self-improving human-like, hands-free vehicle operation:
Intelligent adaptive cruise control
Stop-and-go,
Lane centering, 
Speed sign recognition 
Navigation/GPS databases
BlueCruise also draws on data delivered by a driver-facing camera that monitors Ford drivers to ensure their eyes are on the road. It's an intuitive program that relies on itself and the attention of the driver. If the camera detects that the owner's eyes aren't on the road, BlueCruise shuts off. 
BlueCruise and Hands-Free Blue Zones
In North America, there are over 130,000 miles of what the automotive industry classified as Hands-Free Blue Zones. They're prequalified, registered roads divided and classified as Blue-Cruise safe. For the time being, they are the only roads where BlueCruise can activate itself. 
Which Ford Models Have BlueCruise Availability?
Currently, Ford creates two models with BlueCruise availability: the Ford 1-150 and the Mustang Mach-E.
Ford Power-Up Software Update and the 2021 F-150 and Mach-E
During future Ford Power-Up software updates, the 2021 F-150 and the 2021 Mustang Mach-E can both integrate BlueCruise capability. 
Learn More About Ford BlueCruise with Springfield Ford
Still have some burning BlueCruise questions? Don't hesitate to contact our dedicated sales team online today or visit us personally at our conveniently located dealership, serving Ford shoppers in Springfield, PA and the greater Philadelphia area.